When I was growing up, Christmas was cookies.
Lots of them. And I don't mean lots as a euphemism. I mean, making hundreds of dozens of more than forty kinds in a span of less than two months.
See, my grandmother was renowned in our small community for her cooking skills, and one of her specialties was baked goods. Every Christmas, she made cookies for the family, something that segued into giving cookies as gifts to others. Then, someone convinced her they were good enough to sell, and boom! Her Christmas business began.
It was insane. She made every kind of cookie under the sun. Orders went out in trays of six dozen. She did the baking, while my three siblings and I, along with my mom and uncle, filled the orders and wrapped them up. Though I loved them, I swore when I moved out for college that I would never look at another Christmas cookie ever again.
But the very first Christmas I couldn't go home, I was miserable. In an attempt to cheer myself up, I made cookies, because I needed that connection to my missing family. I didn't go nuts like Grandma did, but I made a couple kinds and gave all my extras to people at work. Guess what? They raved. And just like that, I was picking up the tradition again.
Now, I'm not crazy like Grandma. I do not have the time or energy to do what she did. But my kids and I pick out a dozen or so recipes every year to make together. It's part of what Christmas is to us. There is one cookie we always do, however, because both my kids love it so much. It's a cappuccino spice cookie, and since I can't share an actual plate of cookies with you, I'll do the next best thing. Here's the recipe:
*_*_*_*
CAPPUCCINO SPICE COOKIES
INGREDIENTS
2 1/2 tsp instant coffee granules
1 tbsp boiling water
1 cup butter, softened
1 cup packed light brown sugar
1/2 cup granulated sugar
2 eggs
1 tsp vanilla
2 2/3 cups all-purpose flour
1 tsp baking soda
3/4 tsp cinnamon
1/2 tsp salt
1/4 tsp nutmeg or cloves (I used nutmeg)
3 cups semisweet chocolate chips
DIRECTIONS
1. Preheat oven to 375F.
2. Dissolve coffee in boiling water.
3. Beat butter and sugars in large bowl until fluffy. Add eggs, coffee, and vanilla; beat until well blended.
4. Combine flour, baking soda, cinnamon, salt, and nutmeg in medium bowl.
5. Gradually add flour mixture to butter mixture, beating at low speed until well blended.
6. Stir in chocolate chips.
7. Drop by heaping tablespoonfuls 2 inches apart onto ungreased cookie sheets. Bake 8-10 minutes or until set. Let stand on cookie sheets 1 minute, then transfer to wire racks to cool completely.
NOTES: I actually don't do it as a random drop cookie, but instead make them into balls and then flatten them slightly so they're a little more uniform. They do spread, but not tons, and doing it with the slightly flattening method means they cook more evenly. The drop method requires more time in my oven in order to get the centers completely done. Makes about 3 1/2 dozen cookies.
*_*_*_*
In addition to commenters being up for the free pax collection Amber Quill Press is offering, I'm having a giveaway as well. In honor of my grandmother, who passed along two of her passions to me - cooking and books - I'm giving away these two pairs of earrings to one lucky commenter on today's post: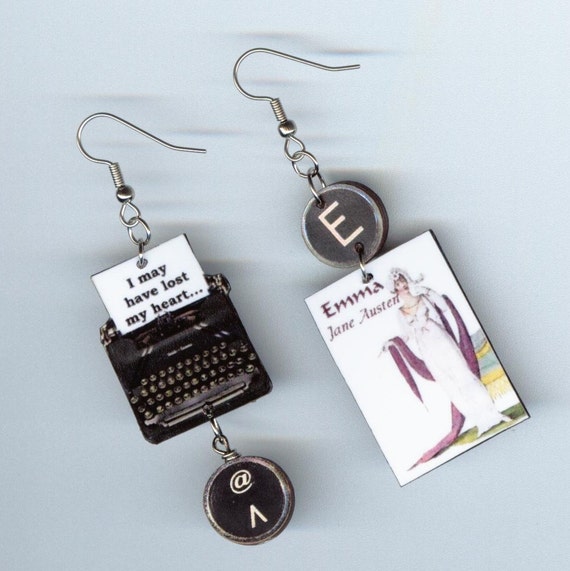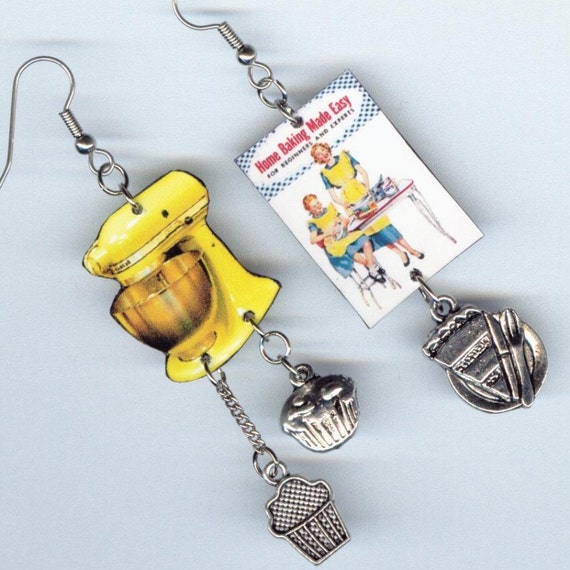 What I want to know is...how would you finish the sentence, "Christmas is..."? (Or whatever holiday you might be celebrating this time of year)
Have a wonderful holiday!
Vivien Dean